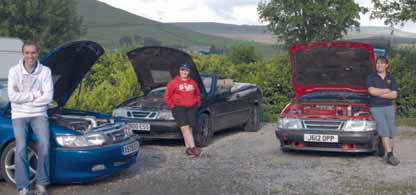 Preparations are well underway for the Peaks and Dales 2015 tour on Saturday, 13 June.
A completely new route of approximately 120 miles on country roads, passing through delightful rural Derbyshire villages and the stunning Peak District scenery with three new interesting stopping off places, is in store. This very popular annual tour has seen increased participants year on year with many returning every year. Very easy navigation instructions are provided, with check points throughout the route, in a relaxed and friendly atmosphere among fellow Saab enthusiasts, and is suitable for all ages of Saab cars.
We can arrange camping, caravan parking and accommodation at the starting point near Glossop, and for those coming for the weekend. There is a run on Friday evening to the famous 'Compos Fish and Chip Cafe' at Holmfirth (Last of Summer Wine Country) for a fish and chip supper and an excellent end of event buffet on Saturday night. Dust your Saab off and come and join us for a great day out.
To Book on tour please contact Richard Elliott.
Tel 07801103426 or e-mail This email address is being protected from spambots. You need JavaScript enabled to view it.
Last day for entries is 6 June.