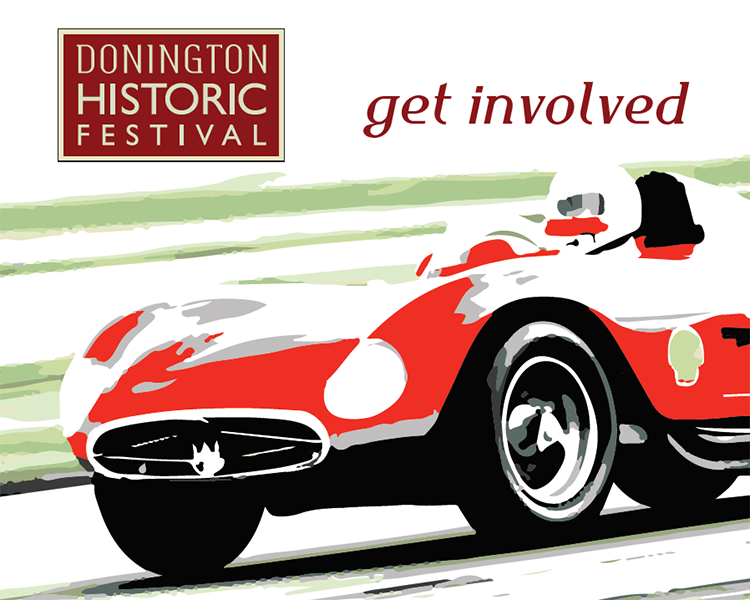 Fans of historic motorsport of all eras have a treat in store over the May Bank Holiday weekend when race cars from the 1920s to the 1990s take to the track for the Donington Historic Festival (Friday 28th, Saturday 29th and Sunday 30th April).
Across 17 exhilarating races, the Donington Historic Festival will showcase some 400 world-class competition machines. Single-seaters, Le Mans prototypes, GT cars, sportscars and Touring Cars will converge on a circuit renowned for fantastic on-track action and superb spectator viewing.
With close-fought racing every day, over 400 historic racing cars spanning seven decades, historic rally car and karting action and a 'living motoring museum' created by dozens of car clubs displays – plus a host of other attractions – exhilaration and entertainment is guaranteed, whether you buy a ticket for one, two or all three days! Friday is an action-packed qualifying day, where the drivers will be going all-out to put themselves on the front of the grid. Saturday and Sunday are all-race days, where the battles for the chequered flag will rage.
On each day of the Festival gates open at 07.30am and the circuit activity starts at 9.10am, finishing at around 6.30pm.
Members of the Saab Owners Club registered to attend the event benefit from a two-for-one ticket offer on advance discounted tickets when they quote our unique club code.(which can be found by logging onto this websites Members Zone). This code must be entered at time of booking (car club booking deadline is Sunday, April 23rdh and all car club tickets must be booked in advance). Each pair of club tickets also includes an infield parking pass for club display vehicles, allowing them to join the other cars on display at our club's dedicated infield parking area, to create a fantastic exhibit for all spectators to enjoy. Children aged 15 and under (accompanied by an adult) get in for free.
The Saab Owners Club will have an event gazebo and the club shop on Saturday and Sunday so please do come along and join us for what promises to be a fantastic event.
Tickets can be bought at http://www.doningtonhistoric.com
Ticket prices are
£16 Friday single day ticket
£21 Saturday or Sunday single day ticket
£30 Friday & Saturday 2-day ticket
£34 Saturday & Sunday 2-day ticket
£48 3-day weekend ticket
All tickets purchases are subject to a transaction & booking fee and postage.
For more information contact Chris Redmond This email address is being protected from spambots. You need JavaScript enabled to view it.