Mountains, Moors and More! – 15-17th September 2017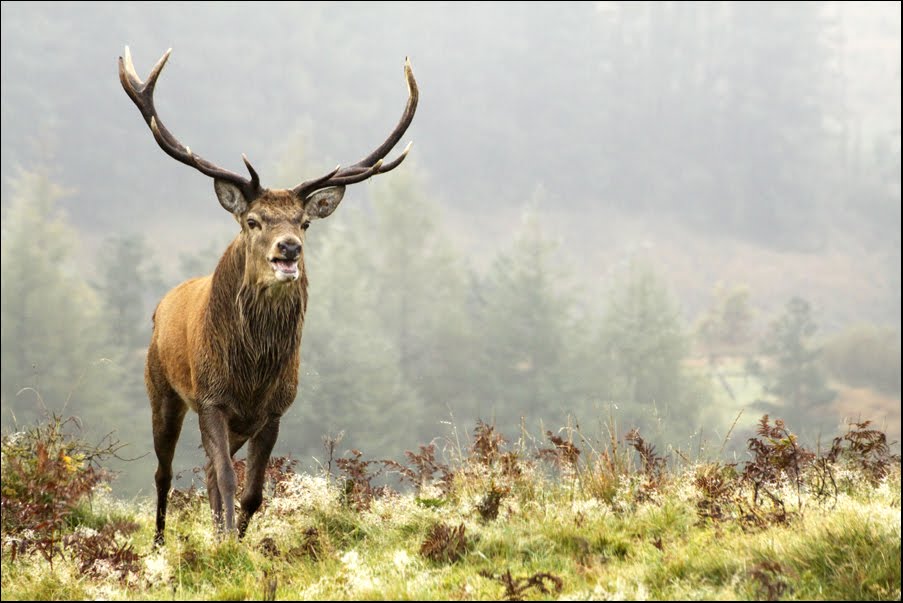 As promised in the last edition of the Driver, here are more details on the SOC/UKS Scottish Weekend to be held in the Scottish Borders over the weekend of the 15th to the 17th September. We will be based at the Bruce Hotel in Newton Stewart in Dumfries and Galloway, which is an AA 3 star rated hotel
(see http://www.the-bruce-hotel.com) - pricing details follow.
The weekend will start on Friday the 15th September when we will all meet at the hotel to catch up with old friends and meet new ones. Dinner and a social evening will follow.
Saturday will start with breakfast (including Haggis for those that want it!) after which we will leave for a tour of approximately 90 miles around the surrounding countryside. There are some superb roads around the area, and many which we will travel are unfenced single track roads. Along the way there are many pubs, tea-rooms and cafes should a stop for sustenance be required.
The highlight of the trip will be crossing the Raiders Road. This is a 10 mile unsealed gravel forestry track, which passes through the forest and alongside a river. A small toll of £2 per vehicle is payable for this. The track is generally in excellent condition, and will allow you to explore your Saab's rally pedigree (although at a slower pace!). There will also be the opportunity to visit the Red Deer Range (for which there is no charge) where you should be able to view Red Deer (deer permitting). The route also follows part of the Red Kite and Osprey trails so the opportunities for rare wildlife spotting should be good.
Saturday evening will be back to the Bruce Hotel for dinner and another social evening which may include a light-hearted quiz. It had been hoped to include a distillery tour, but sadly the only local one that does tours have closed their shop etc for renovations, so we will have to leave that experience for another year.
Sunday morning will again start with breakfast at the hotel after which we will leave for a visit to the Creetown Gem Rock Museum which has a fantastic display of gems, crystals, minerals and fossils. The museum also has a gift shop where you can purchase examples and jewellery or you can order bespoke items. After a look around we will partake of morning coffee, before heading along more minor roads across the moors to Gatehouse of Fleet where there is a selection of cafes, pubs and the Mill on the Fleet exhibition centre. Mindful of people having to drive home, mileage on the Sunday has been kept to around 25 miles, so at Gatehouse of Fleet we will say our goodbyes and head our separate ways.
We have managed to organise a discounted rate for this event with the Bruce Hotel of £100 per twin or double room for one night Dinner, Bed and Breakfast and £75 DBB single. If for any reason you do not want dinner, the B&B rates are £70 twin/double and £60 single per night. Please book your hotel direct with the Bruce on 01671 402294; you will need to quote Saab Owners Club or UKSaabs to get the discounted rate.
Please let me know if you book so I can arrange the museum etc on 01561 320776 or This email address is being protected from spambots. You need JavaScript enabled to view it..
Cost for the weekend will be £25 per vehicle, which will cover souvenir rally plates, entry to the Gem Museum for up to 2 people and morning coffee there. Places are strictly limited, as the Bruce Hotel only has 19 rooms (18 are available as I write this as mine is booked!) and the hotel always fills up for weekends. Obviously, it will be a first come, first served basis so book your room straight away and then let me know you are coming. If you find all the rooms have gone and you want to attend, let me know and I will see what can be done as there are two other hotels in close proximity, but there is no guarantee of price or availability, the only sure way is to book now.
For anyone who would prefer a camping or caravanning option, unfortunately the nearest camp site is about 10 miles from Newton Stewart, but I am happy to pass on details if you want them.
For those that are local, you are welcome to join us for the day/s at the same £25 per vehicle cost up to two people, extra people will be at cost plus a bit! Last booking date for day visitors will be Sunday 3rd September to take advantage of the discounted rates.
If you require more details etc or want to book day packages, contact me on This email address is being protected from spambots. You need JavaScript enabled to view it. or phone on 01561 320776. I look forward to seeing as many of you as possible at Newton Stewart.

Nick Walker