Join Today and become part of the UK's largest Saab organisation!
CLICK HERE TO JOIN ONLINE NOW!

*Latest version of SAAB DRIVER Magazine available Online to members*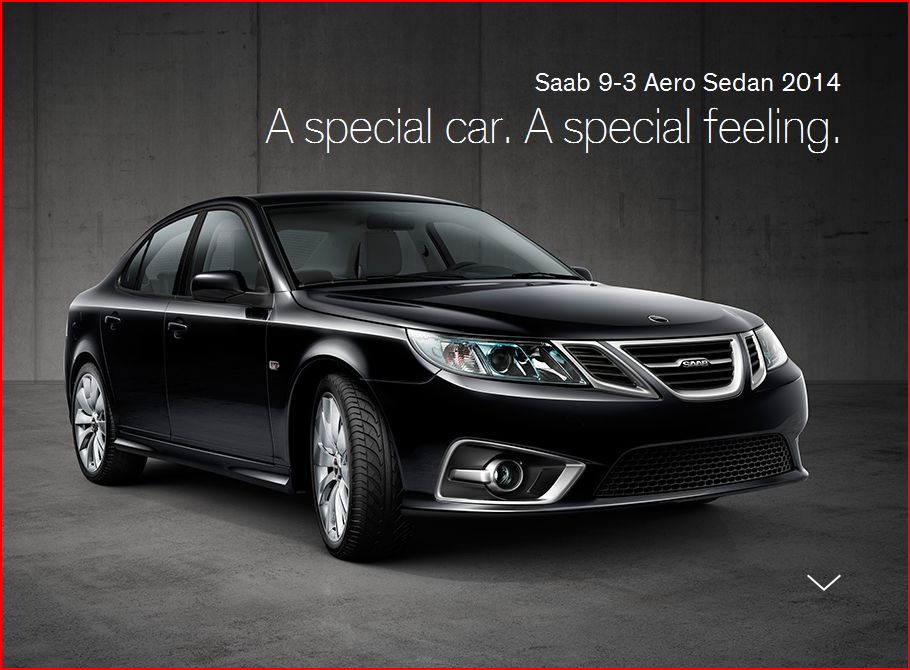 Production has started!
SAAB (or rather NEVS - National Electric Vehicle Sweden) are producing cars again. After a gap of two years the production lines are moving again. Sadly cars are only going to the Chinese and Swedish markets, at least to start with.
For more detail read this article.
Here are some photos of our stand at the Lancaster Insurance Classic Motor Show at the NEC in November 2013.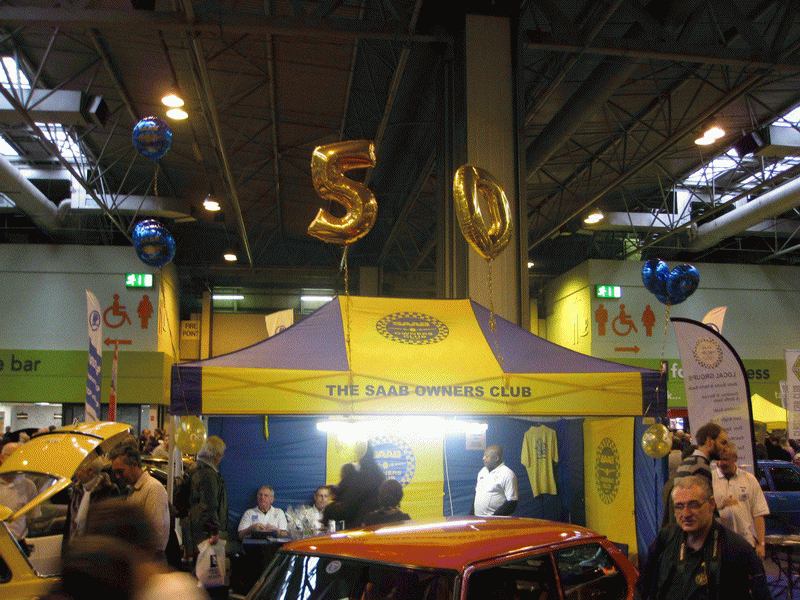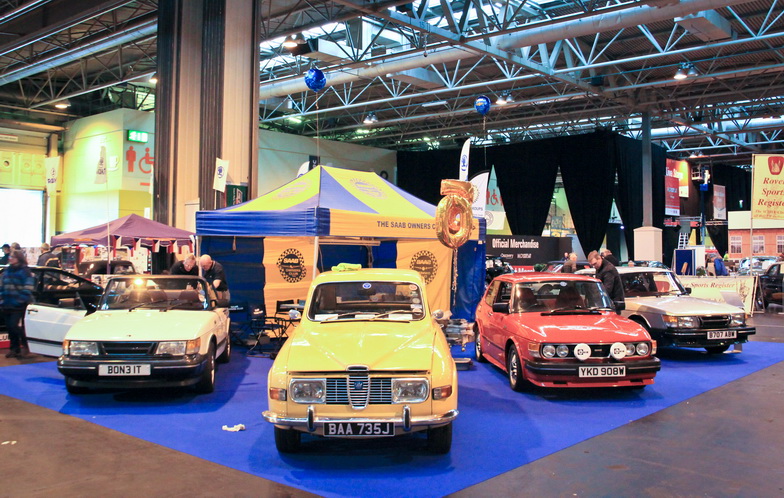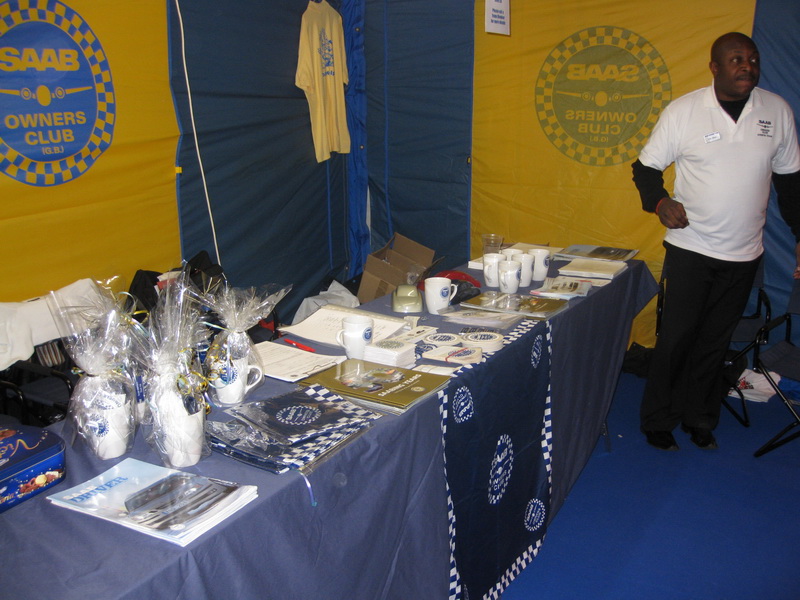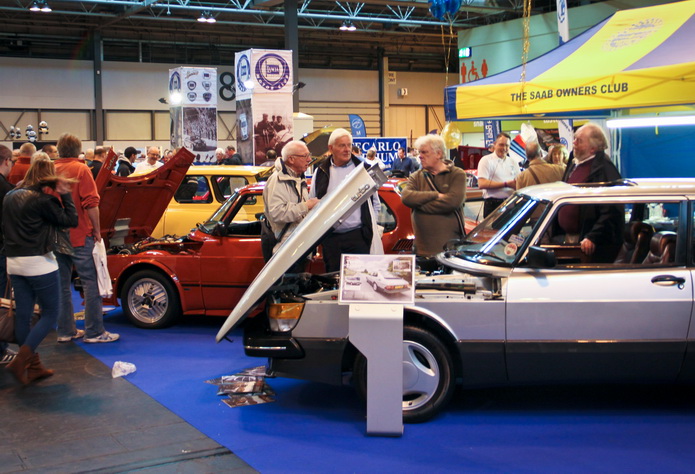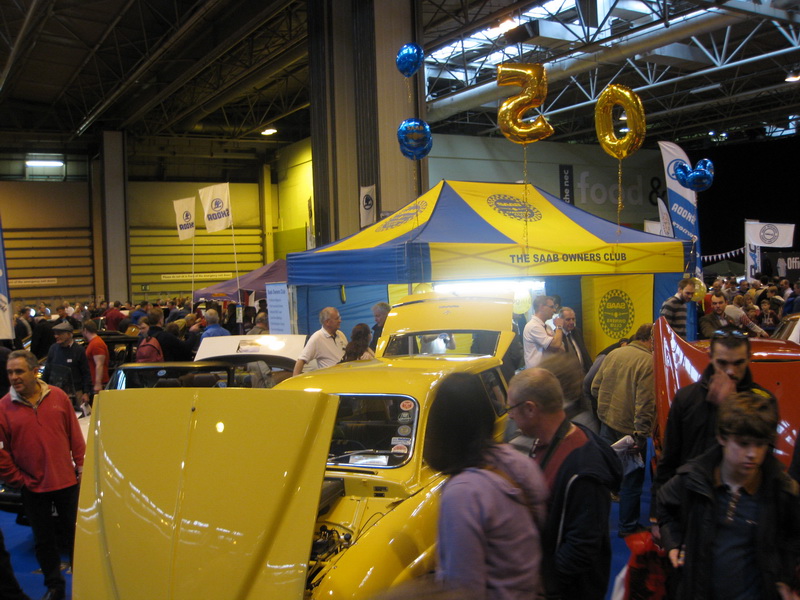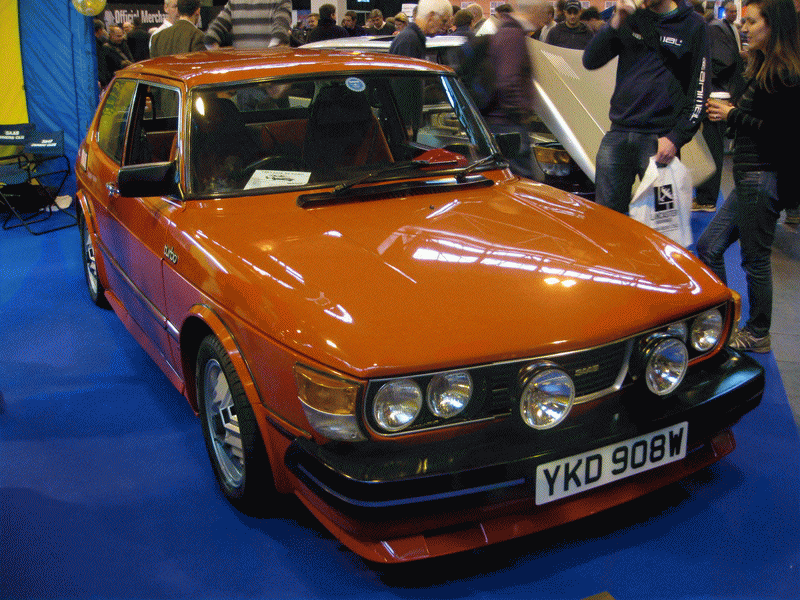 ---
The Saab International was a tremendous success! Over 800 people came to Wicksteed Park to enjoy the 2013 International Meeting of Saab Clubs, over a fantastic August weekend. To see what you missed and quite a lot of photos visit the Saab International site.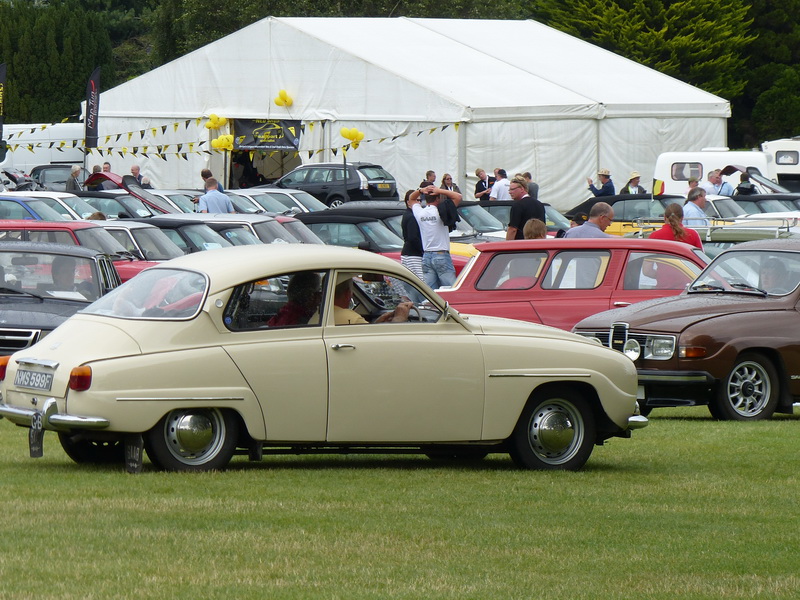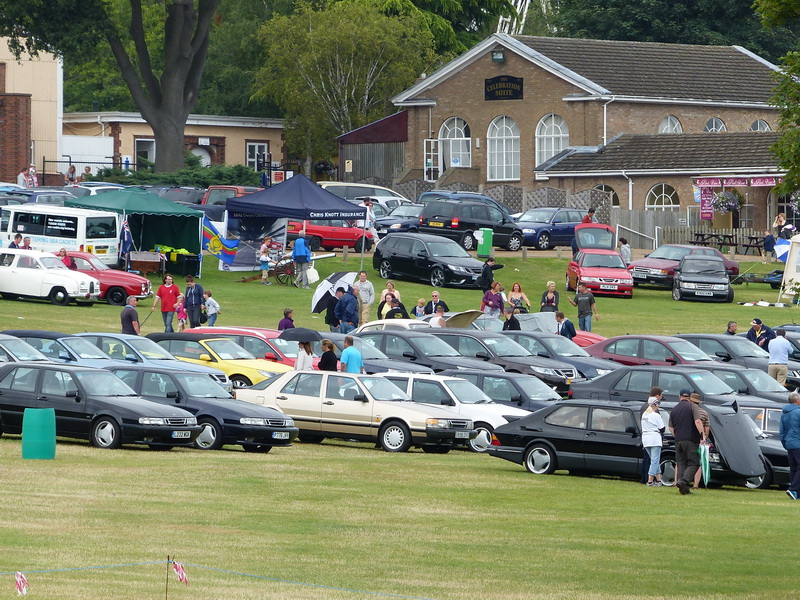 ---
*SAAB PARTS UK ANNOUNCES CLASSIC PARTS SALE*
Reducing prices of select parts for 70,000 older Saabs in the UK
Savings of up to 50% on an initial range
Genuine Saab parts carry a 2 year warranty
National network of 80 Authorised Saab Service Centres
Saab Service Club open to all Saab Owners
After a successful first year of trading, Saab Parts UK is announcing a new line to help owners and independent repairers of older Saabs. Looking through the Saab back catalogue, there are more than 70,000 Saabs on UK roads which are maturing into Saab "classics".
Included in the classic group is the original 900 series (already referred to by many as the 900 classic, made from 1979 to 1993), the 9000 hatch and CD saloon (from 1985-1997), the 900 series 2 (from 1994-1998), and the 9-3 (generation 1 from 1998 – 2003).
Corin Richards, Managing Director of Saab Parts UK, said: "Recognising the loyalty and enthusiasm many owners share for the brand, we at Saab Parts want to reward ownership of older cars. From 1st May a number of genuine Saab parts and accessories for classic models are being permanently re-priced, with typical reductions of 50%. And with Saab original parts engineered to rigorous standards, all come with the reassurance of a 2 year warranty."
Starting with an initial range covering external items like body panels, side mirrors, alloy wheels, interior items like radios and steering wheels, various engine, suspension, electrical and transmission items, the Saab Classic parts are being automatically re-priced on the Saab ordering system. Over the next few months more parts are expected to be added to the Classic range.
Owners and independent repairers of classic Saabs can find out more details by contacting their local Authorised Saab Service Centre. With an extensive national network of UK Authorised Service Centres to source genuine Saab parts and service from, finding your nearest is simply a case of using the Service Centre Locator facility on the Saab web-site (visit www.saab.co.uk).
Saab Service Club, which offers savings and discount exclusively to Saab owners, has continued to expand membership with over 21,000 owners now on board. As the club notifies members directly of the latest campaigns and helps to reduce the cost of Saab ownership, it pays to join up. Open to all Saab owners regardless of vehicle age, registering takes less than 2 minutes on-line at www.saabserviceclub.co.uk.
ends...
Looks like there is some good stuff here so guess we had better be quick. You can see the list of parts available by going direct to the SaabPartsUK website http://www.saab.co.uk/ or by clicking on the PDF file here:
---
I
Thanks to everyone who turned out and supported our National Rally at Wicksteed Park last weekend. It proved to be a very popular location with the biggest attendance for some time.




We counted well over 200 cars on Saturday and 150 on Sunday, plus a whole load of us camping as well.




The range of cars was just fantastic, from a 1952 92B to a 2010 9-5 and including six Sonetts! Erik Carlsson said that he had not seen such a great line up of Saabs for a long time and that he thoroughly enjoyed himself.




The weather was kind to us too.

Thanks also to everyone who helped us leading up to and during the weekend. We could not have done it without you.




A warm welcome to all of the new members that joined our Club over the weekend.

Click here for some photos. See also Mark Edgars Flickr Album.

And this Event Gallery has quite a few photos including some of Lance Coles.

See you all again next year!

The winners of our Best Car competition on Sunday were:

Best Sonett - Hedley Myers

Best Two Stroke - Mike Thompson

Best V4 - Chris Boffey

Best 99/90 - Andy Boorman

Best C900 - Brian Chandler

Best 9000 - Andy Boorman

Best GM900/9-3 - Graham MacDonald

Best 9-5 - Martyn Russell

Best 9-3ss - Chris Mercer


Best Convertible - Tina Bowley

Best Customised car - Os Reid

Best Car - Ken Dover (92B)

The Mick Sollars trophy for best two stroke went to Mike Thompson.

The Erik Carlsson trophy for best car overall is awarded to the car receiving the highest number of votes from the public vote, and this went to the 9000 of Andy Boorman, which received 24 individual votes from the 100 or so received.
---
We are Many, we are Saab
Many thanks to all our members who turned out to support this event. What a great success with over 250 cars and 500 people!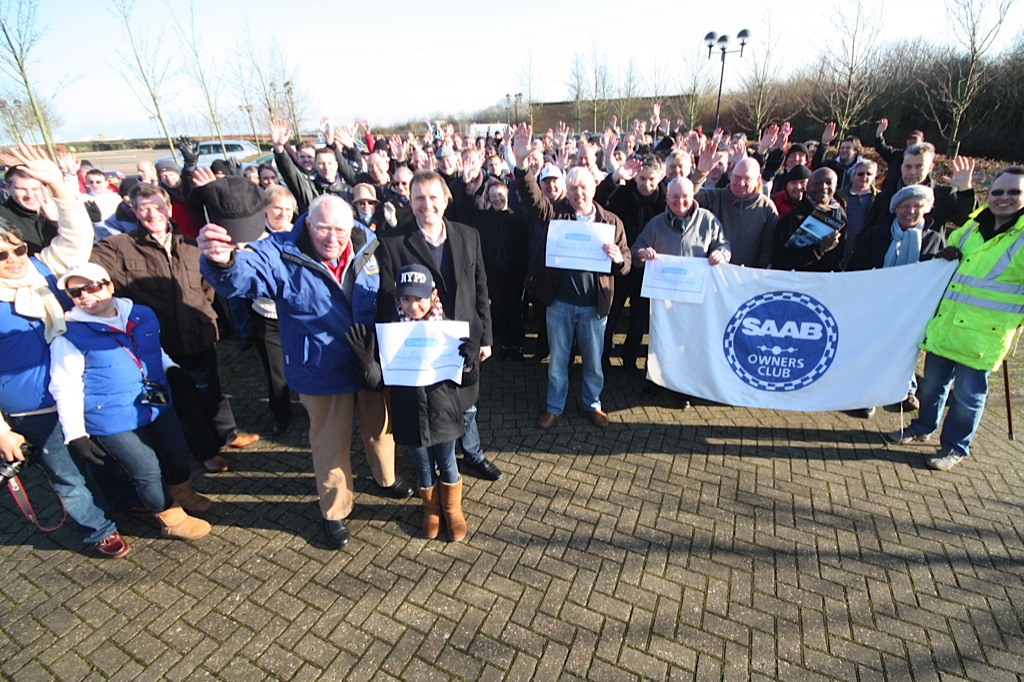 Erik Carlsson who joined us at Cranfield said "this has been the best day that I have had for ages and it has been fantastic to meet so many nice people"
We joined over 40 countries putting on more than 100 meetings in showing our support for Saab and all former employees. Let's all hope that potential investors will act soon to save Saab again.
The Saab Owners Club GB was proud to be part of "WE ARE MANY, WE ARE SAAB"